Welcome to my new newsletter The Story Behind the Story! As I mentioned last month, I'm excited to talk about writing across genres and sharing with you my new ventures into historical fiction. A memoir writer and teacher for the last fifteen years, the shift into writing fiction was a big step—and lots of fun. Of course, it meant learning a whole new way to write—particularly the freedom—and responsibility of making things up!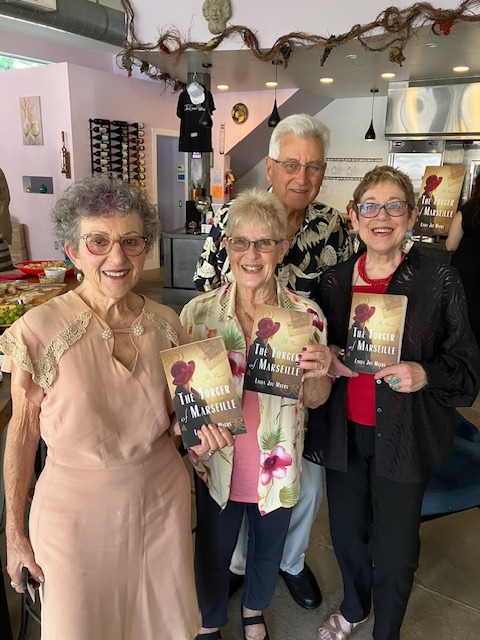 July was full of launch celebrations for The Forger of Marseille! Bringing a new book into the world has often been compared to giving birth and the analogy works—though books require a much longer labor! But there are similar stages: getting the idea for a book, committing to it, then doing what is necessary to help the book be born—classes, coaching, editing, and research. Then there is false labor, when you think the book is ready but it needs another layer of editing! I moved my publication date four times as I encountered these challenges, but all of that allowed the story to continue to blossom and grow into the book it was trying to be.
Given all that, the birth itself, unlike that of a baby, occurs online! The book is finally released into the world, and just like having a child, you sit holding your phone staring at the Amazon page, wondering what kind of life it will have. Just like with a child, there is much you can't control about that book's life, but the main thing that's required then is to tend to it. To share it with others, politely of course, and find ways to help it grow up in the world.
Thank goodness, now we can have "in-person" events, and I enjoyed all four of mine—in bookstores, at a wine bar, and at a library in discussion with another author. I've been blessed with some very good reviews, but I know all that operates separately from me. My job is to find ways to share with others why a book about WWII Vichy France is relevant today—there are many parallels happening now to what occurred in the twenties and thirties in Europe that ultimately led to the war. At this point, our own country is trying to understand what exactly is good and fair in our democracy and what needs to happen to preserve it. I'm excited that historical fiction educates, informs-and entertains!
---
My Journey from Memoir to Fiction
From my Blog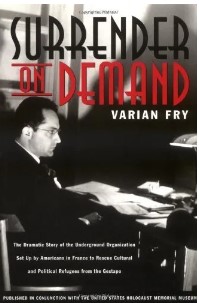 I've always been a memoirist, and of course I read and enjoy—and teach memoir writing, but all my life I've devoured fiction. Though I imagined one day I'd write a novel, I had no idea about how that might happen–until a topic grabbed me and wouldn't let go! I began with what "really" happened, not thinking seriously of writing yet.
I came upon a book about Varian Fry, an American who saved refugees from Austria and Germany who were trapped in France when it lost the war in six weeks in June, 1940. Germany occupied half of France while the other half was controlled by a collaborationist government in Vichy under Philippe Petain. Now Hitler was coming after them again. I worried about what was happening to people in Vichy France and immersed myself in research, piling hundreds of books in my living room!
Read more here.
---
The Story Behind the Story Interviews—Now on YouTube
When I read historical fiction, I want to know what happened behind the scenes, don't you? Where did the writer get the idea for a whole book on certain eras in history, and how did their characters come to life? What were the challenges and what kept them going? You can find out more about these questions, and more on my updated You Tube Channel.
Subscribe to view more interesting interviews and topics about writing!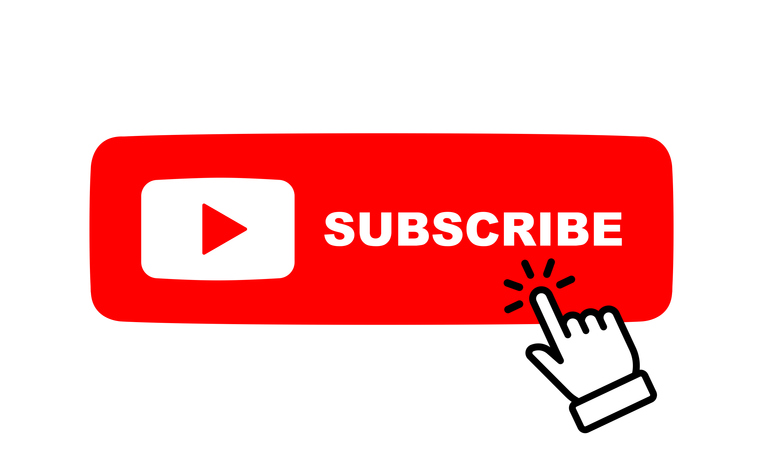 ---
Are You Writing—Or Thinking of Writing?
What eras or topics in history—your own personal history or another era—interest you? Have you been imagining or even beginning to research these topics? You don't have to make a BIG DECISION to explore your ideas. You can just write in your journal what interests you, ideas that come to you. Save these creative explosions—they disappear all too quickly!
I know how overwhelming it can be to even think of a new project, especially if you're writing in a new genre, as I was. For a long time, I didn't respond to the tap-tap-tapping on my shoulder about Varian Fry. I said to myself, I don't know that much about France and WWII—it's a huge subject. I can't write a novel because I'm a memoirist and what do I know about making things up? And so forth—for a few years! But the desire to write about what was happening to refugees in Vichy France wouldn't leave me alone, and finally, after a character whispered in my ear, I said okay—I'll do this!
An article you can read to understand the inspiration for the novel: click here
---
Tips for Tiptoeing into Writing Your Book
List in your journal all the things that fascinate you. Keep adding to the list.
Look for links from one book to the next that reference the topic or people you are curious about. You'll find eventually the research creates a circle—and you know you have a LOT to work with!
Read what you love—and don't censor. You never know what might come out of your passion.
If characters and ideas come to you, write them down immediately. Don't censor! Allow a creative process to unfold.
Most of all: enjoy the process of searching and learning. Listen to that tap-tap-tapping of your ideas!
When you find a book or novel that inspires you, give it a review on Amazon. -Authors really appreciate this!
See you next month!
–Linda Joy